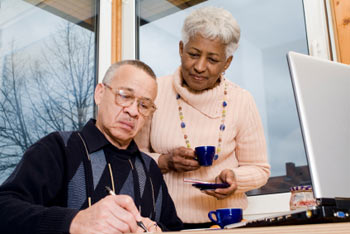 Building Professional, Grow Your Business with an Aging In Place Specialist
Grow your business by serving the rapidly expanding number of Baby Boomers. The number of Americans over the age of 65 is expected to increase from 35.9 million in 2003 to 71.5 million by 2030.
People are living longer. Senior homeowners need their homes to meet their changing needs. As a building professional, you want to make sure you are providing your senior clients with what they need now and in the future.
Ginny Hughes, OT/L, CAPS of My Home Matters, LLC helps building professionals to identify home modifications and age in place solutions that make it possible for homeowners to continue to live safely, comfortably and independently in their homes.
Ginny's medical knowledge allows her to assess the client's current and future home needs including:
Daily activities in the house
How the client is moving throughout the house
How much energy the client expends in doing daily everyday activities
Sensory and cognitive considerations
Why Partner with My Home Matters?
As a building professional, the assessment is critical to deliver functional home remodeling for elders or new construction features that meet the specific needs of a senior who wants to age in place. By partnering with My Home Matters, you will have the information you need to determine the scope of the job and provide quality service to your clients. Remodelers can be assured that they have a qualified medical professional to collaborate with so they are truly meeting the needs of their senior customers. Ginny Hughes, OT/L, CAPS, with 25 years of experience is able to discuss the effects of aging, illness, and functioning in the areas of bathing, toileting and dressing with your clients.
Building Professionals' Services for seniors may include:
Clear passage through all doors
Additional bathroom on first floor with turn space for a wheelchair
Accessible entrances
Accessible bedrooms
Roll-in shower
Ramps
Main level laundry
Accessible kitchen features
Contact My Home Matters, LLC to discuss how Ginny Hughes, OT/L, CAPS, can help you to service your clients.